DaysLeft - visa-free Schengen travel calculator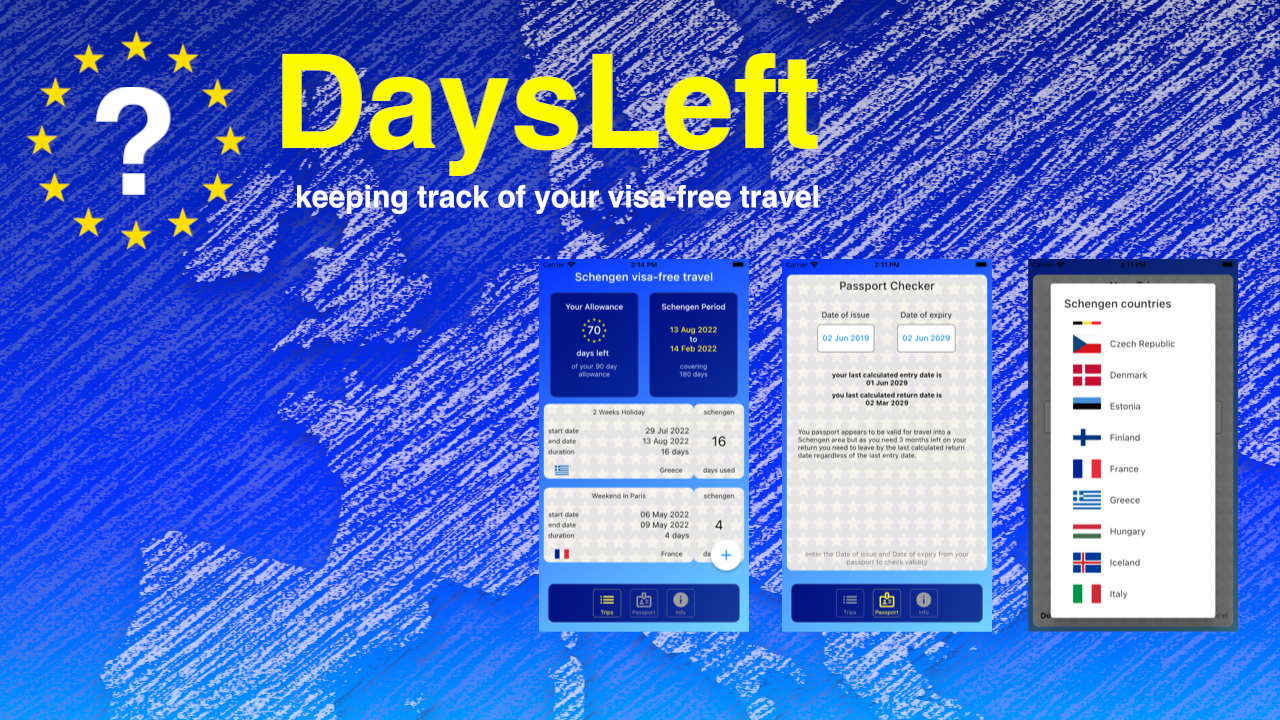 Now that the UK is no longer part of the EU, and also no longer part of the Schengen area, travelling across borders requires, how should we say, a bit more thought.
You can no longer enjoy unlimited borderless travel within Europe's Schengen Area without a visa, you can still go on holiday, or for a longer stay BUT you can only do this visa-free for a limited number of days. While this is usually fine for most people there are a lot of UK people that used to travel abroad for longer periods of time, those that own properties abroad and those that just want to get away during the winter months.
For more information just do a search for Schengen visa free travel but to summarise the current restrictions are
You can travel to, and stay in the Schengen area for a maximum of 90 days in a 180 day period.
You passport needs to be less than 10 years old any time you enter a Schengen area and when you leave it needs to be valid for at least 3 months after.
But, it is a little more complex than that as the 180 day period is always counting from the day you first enter a Schengen area and goes back 180 days from that date. So the number of days available of your 90 day allowance also changes with each day.
Also you may be able to travel into a Schengen area with 1 day left on your passport, but that won't work as you need at least 3 months remaining the day you leave.
This is why we have created DaysLeft as it will help do these calculations for you and let you know how many days of your allowance you have remaining based on the trips you record. It can also check passort issue and expiry dates to let you know th last day you can enter and, more importantly the day you need to leave so you passort still has 3 months remaining.
Just install a copy on your Android or iOS phone and record the trips you have taken.
For an overview of the app see here
For information on the app development click here